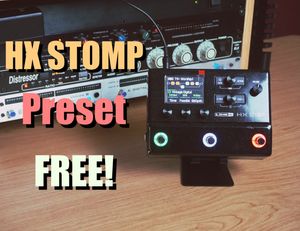 Hey guys-
Every now and then ill post about some guitar gear that I've personally used and liked. That being said, I've always been a tube amp guy....meaning i love the sound of tube amps. I have owned many vintage Fenders and Marshalls as well as other great boutique amps and thats the sound that i gravitate to. But sometimes theres a new piece of gear that gets great sounds and can cover a lot of ground, and is easy to fly with etc etc
The HX STOMP is that piece of gear.
This isn't a review at all. You all know the capability of the Line 6 folks. They've been known for their great effects and amp modeling for years now. DL4, POD, M9, plugins etc etc.
So i recently made a couple presets for the HX Stomp that i thought might be useful for others to use or atleast to use as a starting point. Feel free to download them (Their FREE!) and share this with anyone.
Enjoy!
Tim
Matchless Amp with delays and reverbs that cover the worship sounds
HX Stomp - T9 Worship Preset1 <---Click here to download FREE
Youtube video to come....so you can hear this sound....stay tuned :-)